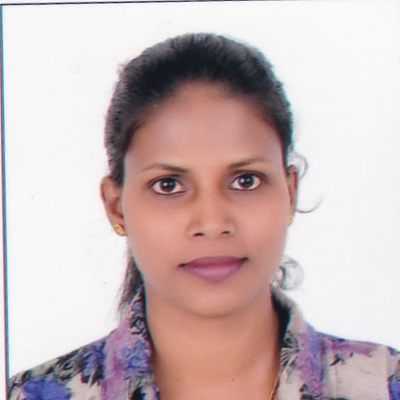 حول Milagrina Lucas:
 Hi, I am Milagrina Lucas from Goa, India and by profession I am electronic and communication Engineer and worked as Engineer for seven years, After the marriage I got involved in family life. I wanted to do some work where I can balance my work and my family life, I got teaching job to teach nursery in my locality and I worked for 7 months, then I moved to Bahrain with my husband and after a few months I started taking tuitions of small children. Then I did Montessori course and got job in Al Khayrat Kindergarten, Bahrain I worked for 6 months, I am looking for teaching job in Playschool, Kindergarten, Primary school.   
تجربة
1. Worked as Teacher in Al Khayrat Kindergarten, Budaiya, Bahrain - 6 months
2. Worked as Teacher in Infant Jesus School - 7 months
3. Worked as Senior Engineer in Zenith Computers - 7 years
التعليم
Diploma in Electronics and Communication Engineering - Goa Board, Goa India
  Higher Secondary School Certificate - Goa Board, Goa, India.
المحترفون الذين يتنافسون مع Milagrina
محترفون من نفس قطاع التعليم والتدريب مثل Milagrina Lucas
محترفون من قطاعات مختلفة بالقرب من Manama, محافظة العاصمة
وظائف بالقرب من Manama, محافظة العاصمة
---

Reef Island

Manama, البحرين

To provide Concierge Duties to all residents and visitors in the building(s) to which they are allocated. · To carry out any duties which deems necessary in order to maintain the security & safety of ...

---

S Hotel Bahrain

Bahrain, البحرين

دوام كامل

Night ReceptionistEligibility:?Need Experience?Must be in BahrainLocation : Bahrain

---

Cuisine Crafts

Manama, البحرين

As a Sales Executive - Food & Beverage, you are responsible to implement all sales activities and maximize business opportunities · Meeting with clients virtually or during sales visits · Establishing ...